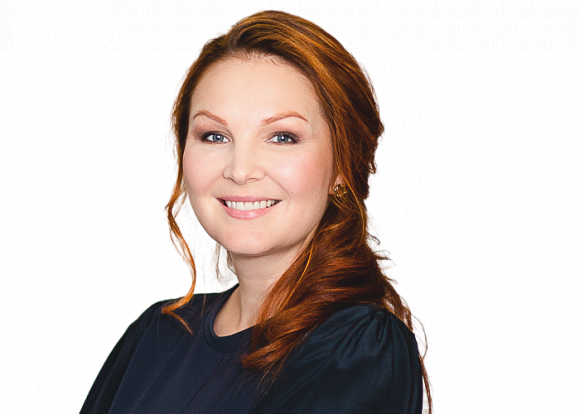 "I know of no single formula for success, but over the years I have observed that some attributes of leadership are universal, and are often about finding ways of encouraging people to combine their efforts, their talents, their insights, their enthusiasm and their inspiration, to work together."
Queen Elizabeth II, addressing the UN General Assembly on July 6, 2010.
Antonina joined RosExpert's team in 2014. Her expertise spans a multitude of areas. She excels in talent management system upgrade, as well as planning and management of large-scale leadership consulting projects. She also addresses the Firm-wide marketing and business development tasks.
Antonina has over a decade of experience in leadership roles and 14 years in talent management consulting. She embarked upon her industry career as the Director of Adecco's St. Petersburg Branch, and later directed her efforts to leading a Kelly Services division. Two years prior to joining RosExpert, she held a Sales Director position at EXECT Business Training.
She possesses extensive experience in designing core talent management processes, including search, selection and assessment, training and development, as well as corporate communication. She has over ten years' background in running large-scale projects, including search and management of temporary employees, training and development, talent audit and change management.
Certifications:
Development Dimensions International — an expert in assessment centers and structured behavioral interviewing (2006).
Franklin Covey — a trainer for 7 Habits of Highly Effective People; 5 Choices: the Path to Outstanding Productivity; Leadership at the Speed of Trust, and Great Leaders (2013).
Korn Ferry Leadership Architect™ (2016).
Decision Dynamics — CareerView™, StyleView™ (2017), 360, CultureView™ (2018).
Hogan Assessment Systems - Assessment & Advanced Feedback Certification (2019)

Decision Dynamics - Master Trainer Certificate Decision Dynamics Executive Suite™ (2020)

Josh Bersin Academy - Programs: The Agile Learning Organization, People Analytics Program, The Remote Work Bootcamp, The Strategic HR Business Partner, Performance Management Reimagined (2020).

Antonina graduated from Syktyvkar State University with a degree in finance and credit. She completed the internship courses at Valdosta State University, Georgia, the U.S.: Introduction to Marketing, and Marketing Research.
Antonina is fluent in English
Палитра инструментов Decision Dynamics: мотивация, вовлеченность, эффективность
20 May 2020
Бизнес ожидает от функции управления персоналом одновременно продуктивности, высочайшего качества, точности и... снижения затрат, сокращения бюджетов на все процессы. Какие решения отвечают всем этим порой противоречивым параметрам?
Чужие мечты: как понять, что вы строите не свою карьеру
18 September 2018
Образ успешной карьеры часто формируется окружением, семьей и культурой страны, где мы растем. Как узнать то, что действительно мотивирует вашу карьеру? Колонка Антонины Ивановой для Forbes.ru
Career: A Choice of the Reason or of the Heart?
7 June 2018
RosExpert interviewed 456 respondents from Russia, Ukraine and Kazakhstan to find out how they perceive career success, and what factors related to career and work they see as most important.
The survey aimed to determine the career concept, which is most associated with success in Russia, and compare it with the career motivations that keep employees involved.
Please click the header to follow the details.